Standard Toilet Cubicle Sizes
The following standard cubicle sizes refer to Building Regulations Part M and the Equality Act 2010 for guidance only.
Cubicle Centre can manufacture made-to-measure cubicles to suit your individual washroom requirements.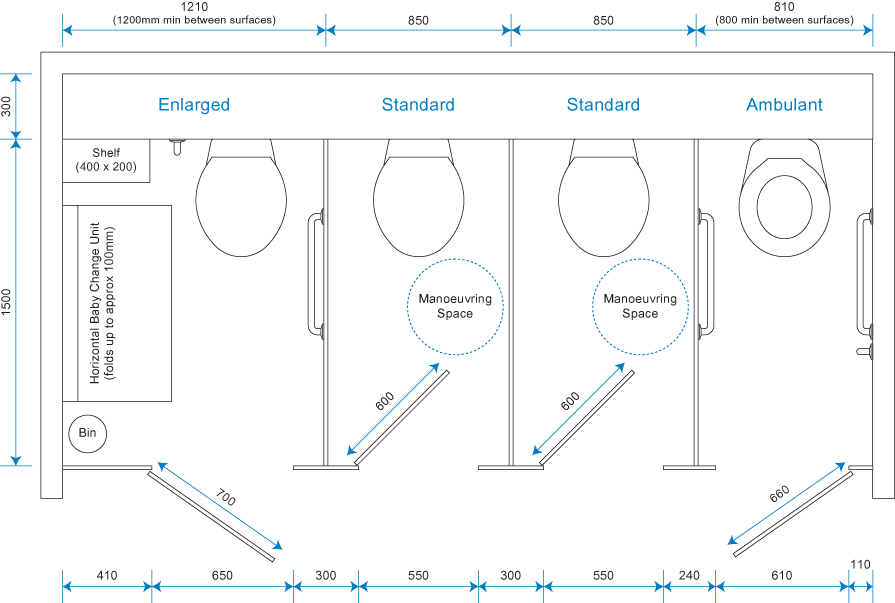 Enlarged WC Cubicles
When four or more cubicles are provided in a washroom, one of these must be an enlarged cubicle.
Enlarged cubicles must be a minimum width of 1200mm and include an outward opening door.
A horizontal and vertical grab rail set is required around the WC.
Standard Toilet Cubicles
All standard toilet cubicles must now have a minimum of 450mm diameter manoeuvring space within the cubicle.
Indicator-bolts must be capable of being operated with a closed fist – and doors must allow for emergency access should a user collapse and become trapped inside the cubicle – blocking the door from opening.
Ambulant Disabled Cubicles
Every same-sex washroom must have at least one WC cubicle that is suitable for the ambulant disabled.
If there is only one cubicle in the washroom then this must be suitable for an ambulant disabled person.
The ambulant disabled cubicle must include an outward opening door.