Splashbacks
Want to create a neat and uniformed look in your washrooms?
Vanity splashbacks protect the wall behind the washbasins. Any spills, sprays or splashes can be easily wiped away. This creates a clean and hygienic washroom.
Our splashbacks and upstands are made to measure, so you can get exactly the right size for your vanity unit. They are available in materials and colours to match your cubicles or modern acrylic panels.
Overview
Improves washroom appearance

Easily cleaned for better hygiene

Materials and colours to match cubicles or vanity units

Acrylic splashbacks available for stunning, modern washrooms
Acrylic Splashback Panels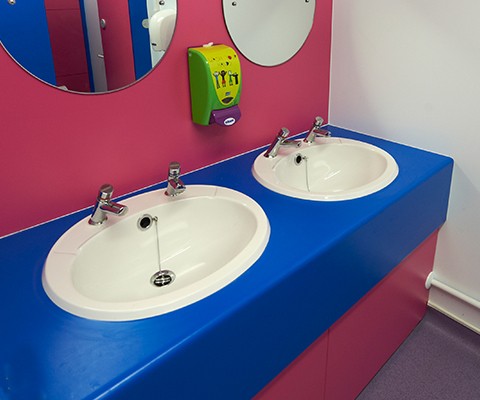 Our acrylic splashbacks are beautiful and tough. The
acrylic glass
is 4mm thick with a back painted surface available in a range of colours. This gives a fantastic colour intensity and reflection through it's surface, just like coloured glass.
These acrylic panels are an affordable alternative to glass and ceramic tiles. The highly durable panels are 25 times more impact resistant than traditional glass. So it will not shatter. It also has a high heat resistant of up to 100°C.
The material is also 100% waterproof so ideal for the washroom environment.
Acrylic Splashback Colours
High Gloss














Splashbacks to Match Cubicles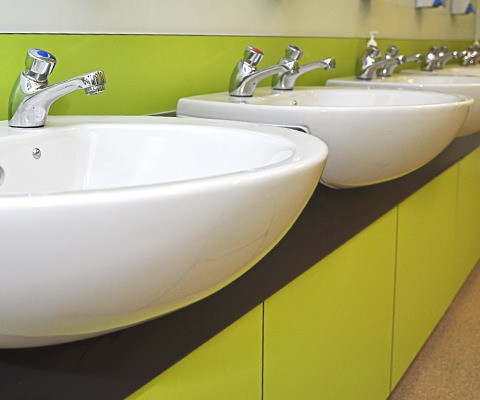 We can provide splash backs in the material and colour to suit your vanity units and cubicles. This will complete a uniformed look for your washroom. They are made to measure, so you can get exactly the right size for the vanity unit.
Compact Grade Laminate (CGL) panels are recommended for splashbacks as they are waterproof and durable enough to clean.
Questions about splashbacks?
Do you require a splashback? Questions about installation, specifications or design?
Call our friendly team for technical and buying advice on: (01924) 457600