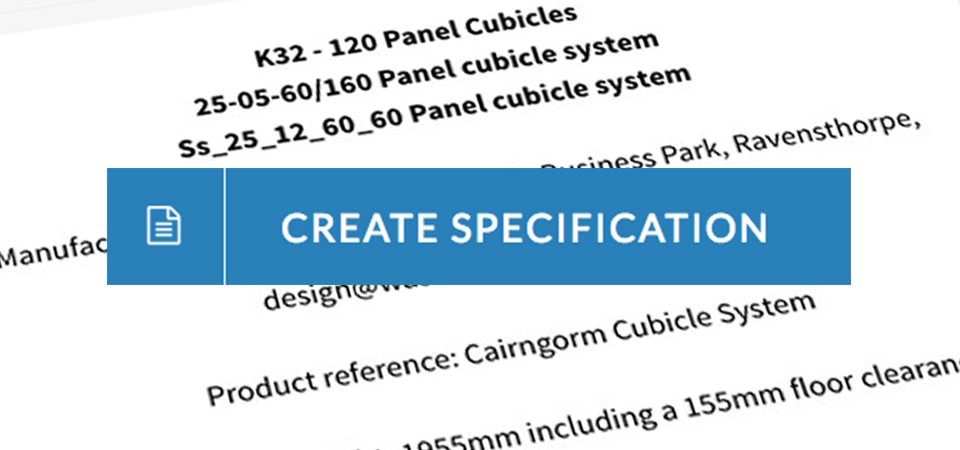 Specifying a washroom doesn't have to be frustrating and time-consuming when it can be instantaneous.
Usually, you have to research the product. If you discover a specification, you get a mass of general information. Then you must unravel, edit and format the details to get the specification you need. This takes time, effort and can be a frustrating process.
It is during this process where misspecification can occur. Exceeding manufacturable sizes, conflicting information, even removing vital details. Misspecification can impact the project's schedule and budget. Mistakes on products installed towards the end of the project can delay completion.
There is a better solution.
Cubicle Centre developed a "Create specification" tool that generates detailed and accurate information. Pick between the simple options to tailor the product, including sizes, colours and hardware. When completed you receive a "copy & paste" specification tailored to your desired washroom.
The customisable options ensure the specification is within the manufacturing limits. This allows for an accurate quotation and delivery forecast. Each "Create specification" takes between 30 – 60 seconds to complete and is available for all cubicle ranges.
Accompanying each product specification is the NBS Clause, NBS Create clause and the Uniclass 2015 classification for your reference.
Latest Updates.
Continual updates and improvements are a key part to any product or service. That is why you can now specify the best cubicle ranges at an increased height. Cairngorm – CGL, Grampian – HPL, Cambrian – CDF and Malvern Plus -MFC products can now all be specified at 2100mm high with only 100mm floor clearance. The advantage of this offers extra privacy which will suit almost any environment.

Create Specification tools are located at the bottom of each product page
Have a minute? See how easy it really is.