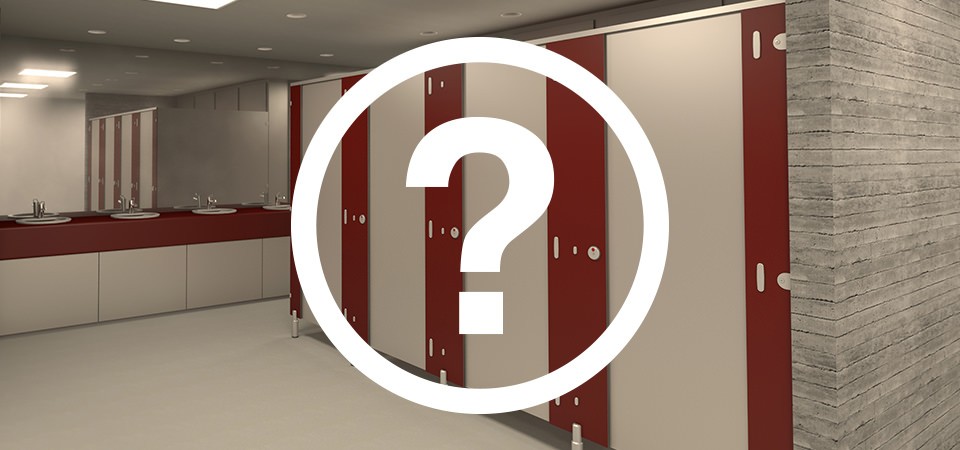 You hesitate.
You need a price for washroom cubicles. But what information do you put in the email?
Maybe calling will be easier. But what questions will you be asked? Will you know the answers?
Ordering a washroom from Cubicle Centre is simpler than you think. Don't worry if you don't know your pilasters from your flash gaps.
Knowing the right questions to answer will make the ordering process smooth as silk. There is less stress for you because you get a quick quote, for the perfect product.
What do you need?
Imagine you're a car sales rep.
Not the sleazy type with a cigar. You're one of the nice guys.
You wait for today's customers in the forecourt surrounded by hundreds of shiny cars.
First comes a teenager with his parents. After greeting them, you direct them to where the smaller second-hand cars are.
Next a couple with their three screaming children. You offer an understanding smile then show them to the larger family cars.
Finally an older gentleman who's eyes search beyond the family MPVs and the sporty hatchbacks – maybe the specialist cars section at the back?…
No car is a perfect fit for everyone. Each customer has a different need, budget and taste. A good car salesman asks the right questions to establish which car is right for their customers.
Your washroom refurbishment is the same.
Each project is unique.
To create your perfect washroom ask yourself these 7 questions.
Q1: How much space are you working with?
You arrive home in a brand-new Landrover. As you open the garage door you think, will the car fit?
Knowing what space you have is important for an accurate quote for cubicles that fit. The majority of refurbishment projects have limited room to work with. We supply Made-to-Measure products to optimise the space you have available.
Measure the room's width, depth and height. Have a think about the layout of your cubicles. Our sales team are on hand to help with any layout advice.
(Drawing of layouts)
Q2: What is the right product for you?
A Lamborghini is no good for off-roading.
A washroom at a fancy Italian restaurant will need to look classy. While cubicles at a football stadium will need to be tough as hell.
Campsite, gym, golf club, VIP lounge. We have products for every type of washroom environment.
Let us know where the washroom will be so we can recommend the most suitable product.
Q3: Which colours would you like?
Does the car look better in Duck Egg Blue or Aqua Metallic?
Our cubicle panels are available in hundreds of colours, woodgrains and speckles. We can match your vision so you get the washroom you want.
We even offer exclusive vinyl door designs for schools.
How will the cubicles look in the finished washroom? Now is a good time to consider floor tiles or laminate, lighting, and how you will paint the walls.
Q4: How many cubicles should you provide?
If you have a big family you don't want to squeeze them into a tiny Smart car.
Depending on your industry, there are guidelines telling you a number of toilets you should provide.
For example did you know high schools should provide one toilet for every ten pupils?
If your washroom will be in a school it is worth reading our handy School Washroom Guide. It's free.
It can be a nightmare digging through regulations to find how many toilets you should supply. So we made it simple for you. The How many toilets do you need? page saves you time and effort by telling you exactly how many you should be providing.
Q5: What washroom extras do you need?
Wheel trims, built-in-GPS, seat warmer. These are all great extras that make your car even better.
But what extras are available for washrooms?
Consider the following:
Vanity Units Cover and protect ugly pipework and look great
Wall Panels: Match walls to your cubicle colour scheme
Duct Kits: Hide toilet cisterns and make the cubicle interior look smart
Sanitary Ware: Sinks, toilet pans, toilet roll dispensers, liquid soap, taps.
What do you need to complete your washroom project?
Q6: When do you need delivery?
Once you have bought a new car you come back some time later to pick it up.
We supply Made-to-Measure cubicles which take a bit of time to manufacture. We understand that your project will be on a deadline so we offer some of the quickest turnaround times in the industry.
5 – 10 working days is the expected manufacture time for the majority of our cubicle ranges.
Are you near the end of your project and realise you forgot to order cubicles?
We can help.
Our Pendle range is a box packed system that is dispatched in 2 working days and adjustable on site.
What should you do next?
Taking the time to think about these questions is well worth the effort. The whole ordering process will be quicker, easier and you will be ecstatic with the final result.
Write down your answers to each of the questions then contact us via email sales@washroomcubicles.co.uk or on the phone 01924 457600.
Our sales team are ready to help with any aspect of your project.